Franklin Chamber Foundation Announces Grant Recipients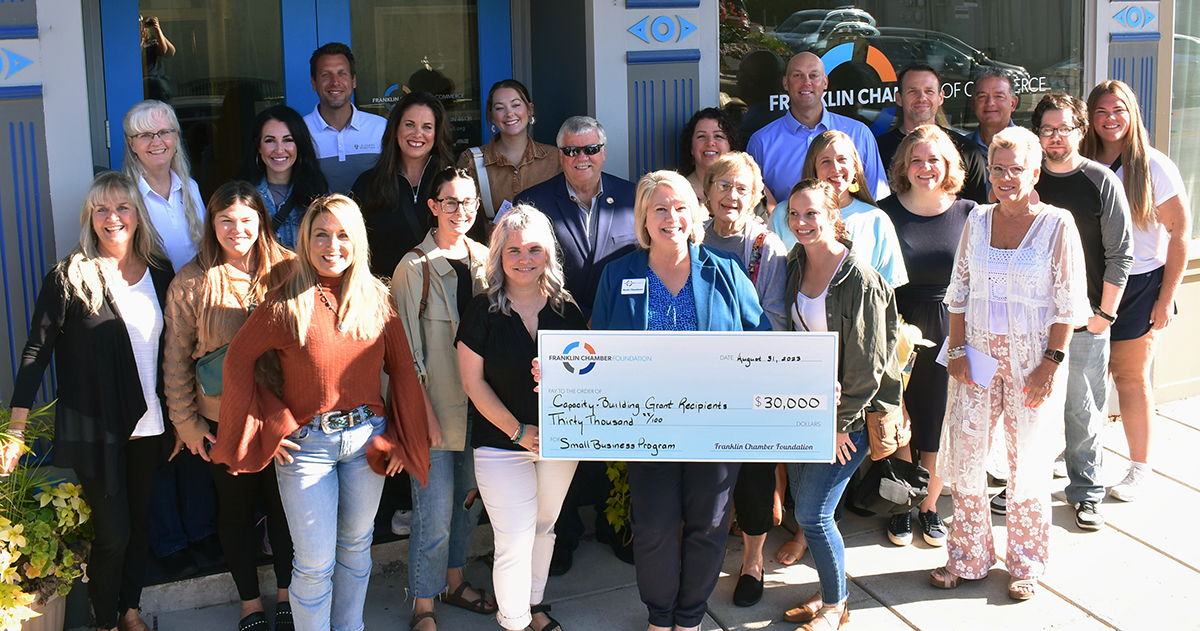 The Franklin Chamber of Commerce through the newly formed Franklin Chamber Foundation is pleased to announce the recipients of its inaugural Small Business Capacity-Building Grant program.
This pilot program was funded through a grant from the Franklin Economic Development Commission and facilitated by the Franklin Chamber Foundation to strengthen local businesses through capacity-building projects.
Through a rigorous selection process, 13 deserving businesses were chosen from a competitive pool of applicants to receive funding for their capacity-building projects.
On August 31, the Franklin Chamber Foundation proudly announced the recipients of their annual grant program, with a check presentation ceremony. The selected organizations showcase the vibrant business landscape in our community.
Each recipient demonstrated a strong commitment to improving their operations, expanding their reach, and enhancing their overall capabilities. The grants, totaling $30,000, will provide essential financial assistance to these businesses, enabling them to implement their proposed projects and achieve their growth objectives.
The Franklin Chamber of Commerce firmly believes in fostering a thriving business environment and recognizes the crucial role that small businesses play in driving economic growth. Through this grant program, the Chamber aims to empower these businesses with the necessary resources and support to flourish in an ever-changing market.
"We are thrilled to award these grants to such deserving businesses," said executive director, Rosie Chambers. "By supporting their capacity-building projects, we are not only helping them grow and succeed but also contributing to the overall economic vitality of our community."
The recipients of the capacity-building grants are as follows:
1823 Bakehouse – Advertising Initiatives
Brick Street Boutique – Display Aesthetics
Coffeehouse Five – Coffee Roaster Front-House Display
Farm Girl Mercantile – Point of Sale System and Décor Display
Generation Art and Frame – Website Improvements
Middle Davids Artisan Candles – Website Improvements
Miss Polly's Music Class – Marketing and Materials for Music Class
Possibilities Home Re-Imagined – Classroom/Education Space
Salvage Sisters Antique Market – Install Internet and Upgrade Point of Sale System
Sweat Shop Franklin – Creation of Sisters Corporate Wellness Program
T-Shirt Express – Digital Catalog
Toodleydoo Toys – Holiday Playbook Project
Wild Geese Bookshop – Website Improvements
"The Franklin Chamber Foundation congratulates all the grant recipients and looks forward to following the positive impact of the capacity building projects on their businesses and the community as a whole. We encourage civic minded individuals and organizations to learn how they can get involved in funding next year's small business grant program", Rosie Chambers, executive director of the Franklin Chamber of Commerce and the Franklin Chamber Foundation.
About the Franklin Chamber of Commerce
The Franklin Chamber of Commerce is a nonprofit organization dedicated to the promotion of economic growth and quality of life for its members and the community. For more information about becoming a Chamber member, or for a calendar of events, visit the Franklin Chamber of Commerce Website: www.franklincoc.org or call 317-736-6334.