Radwell International
600 North Forsythe Street
Franklin, IN 46131

Radwell International stocks and sells New and Surplus Industrial Automation, MRO, Pneumatic, Motion, Electronic, Hydraulic, HVAC and Electrical Control Equipment for plant floor and facilities maintenance machinery. We also have full component level Repair capabilities for all Industrial Electronic and Electrical equipment. We also buy Surplus Industrial Controls.

Why Did You Join the Franklin Chamber of Commerce?
We established a location in Franklin Indiana in 2014 from our headquarters in New Jersey. In an effort to acquaint ourselves with our community and the surrounding area, we joined the Franklin Chamber of Commerce. Initial communications at the Chamber office with Chamber staff allowed us to understand Franklin and the surrounding areas expeditiously. The Chamber allows us to be involved and contribute to our community, which is a culture every successful company should embrace. We get a chance to network, meet business leaders, and city officials to build relationships for hiring and growing business, etc. There is no better resource for a business or prospective resident than the local Chamber of Commerce. One quick stop in the chamber office presents friendly faces and a wealth of information.
- Rob Tiedeken, Branch Manager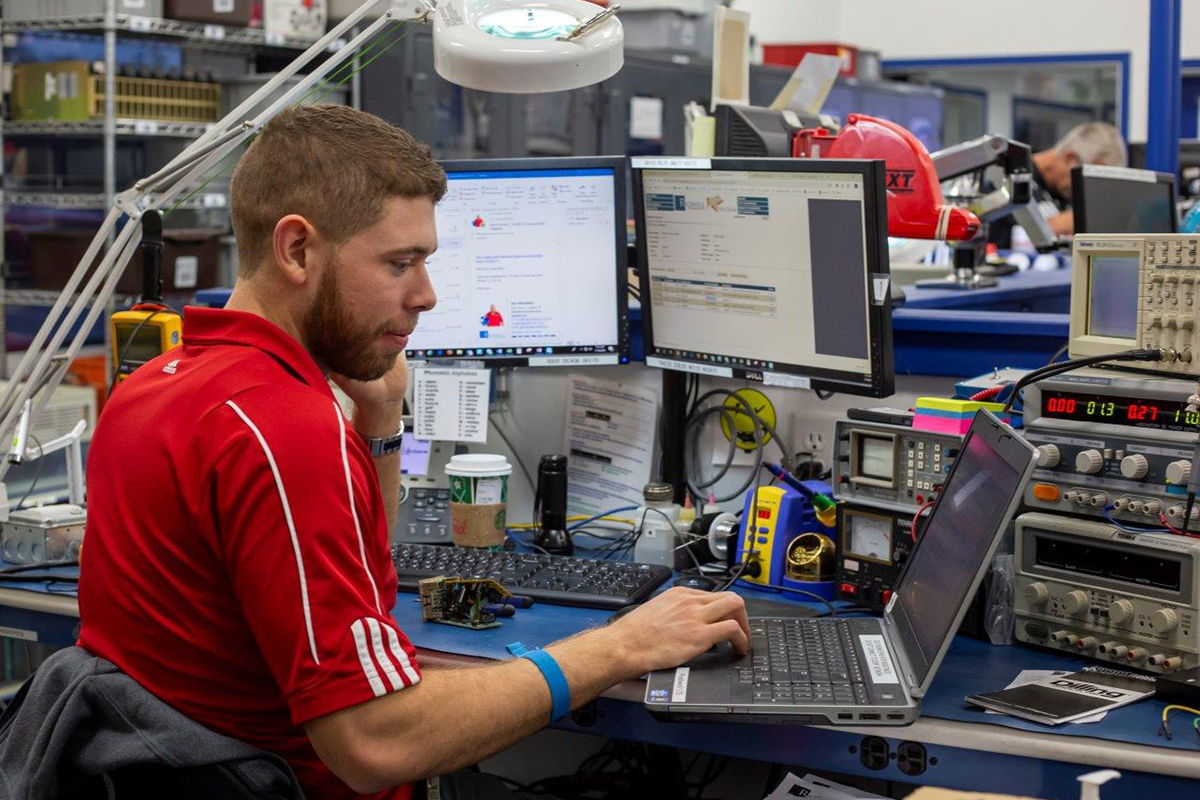 How does the Franklin Chamber of Commerce benefit your business?

Networking with local business leaders. Relationship building with city officials and surrounding Chambers and Chamber members. This has led to word-of-mouth advertising and allowed us to put a face to our business and build our brand in a new location. Also, it allowed us to open our doors to our community, local leaders and others to see who Radwell is and what we do. We gain from advertising opportunities and sponsorships among others.
What do you gain by attending the Franklin Chamber of Commerce events?
Networking is a common and important theme. Also, we are tuned in to what is going on with our community, how we can help and get involved, and as a business thriving in Franklin, an opportunity to give back to the community. And let's be honest, the annual golf outing is pretty great!
Why do you believe the City of Franklin is a great place to do business?
Proximity to Indianapolis and UPS/FedEx logistics with Indianapolis International airport. We are in the heart of manufacturing which is the business we support. The eagerness of our city leaders to grow Franklin, remaining competitive with the northside to attract more residents and businesses to the Southside. For me, I spent 1 hour in Franklin at the Chamber Office seven years ago to understand how great of a community we were about to enjoy, and through the chamber memberships, networking, community involvement and chamber activity, we are a part of Franklin and its path forward.
If you were talking to someone about joining the Franklin Chamber, what would you say?
Simply it's a no-brainer. Take a moment to visit the office and talk to Rosie and Anya, the rest will take care of itself. It's easy to see how far Franklin has come, where it is going, and what you can do to be a part of it, and as a local business, you should be interested in this. Chamber membership opens up that transparency and allows our business leaders to instantly be more effective and reach a larger audience while building its brand.