Franklin Chamber Announces 2023 Award Recipients
The Franklin Chamber of Commerce is pleased to announce its 2023 Annual Meeting award recipients. These recipients were announced during the February 9 Franklin Chamber Annual Meeting which featured the Franklin State of the City Address by Mayor Steve Barnett.
Franklin Chamber Community Service Award: UpLift Johnson County
The Community Service Award recognizes an individual or organization that has contributed significantly to the Franklin Community, serving selflessly without intent for personal or monetary gain.
The recipient of the community service award is an organization founded on the principle of "see a need, seek to fill it." They are a resource that gives everyday people the opportunity to serve those in need or to bless others in the community. UpLift Johnson County seeks to partner with individuals, groups, churches or civic organizations, businesses or other local non-profits to identify opportunities to make a difference in the lives of others here in Johnson County. Some recent initiatives were:
Warriors Day Out
A Christmas food drive
Presented $7500 to each family impacted by the Greenwood Park Mall shooting
Christmas giving tree that gave presents for over 50 children identified by local school counselors.
Franklin Chamber Community Impact Awards: (2 awards given) Franklin Parks and Recreation and Festival Country Indiana
The Community Impact Award recognizes a business or organization that has demonstrated outstanding business success in the areas of growth, stability and commitment to quality of life and overall contribution to the community. For the first time in recent years, the award selection committee saw fit to award two organizations the Franklin Chamber Community Impact Award.
Festival Country Indiana is the official tourism agency for Johnson County and has helped grow the economic impact of tourism by more than $85 million annually. Festival Country, which operates the visitor center in downtown Franklin, advertises to draw visitors to Johnson County and uses billboards to get motorists who are passing through to stop. They also partner with other organizations to add new festivals, events, attractions and other amenities.
The second organization's mission is to inspire our community to come together, learn, grow and be active, healthy and well by delivering exceptional parks, open spaces, trails, facilities, programs and services. Franklin Parks & Recreation is a department within the City of Franklin that oversees and manages several community facilities including the Franklin Cultural Arts & Recreation Center, Franklin Family Aquatic Center, Youngs Creek Park & Amphitheater, Franklin Active Adult Center, Beeson Hall, the Wonder Five Center, the 20-plus miles of the Franklin Greenway Trail system, Booker T. Washington Community Center, the Franklin Urban Forest as well as 15 parks located throughout the city.
Franklin Chamber Business Hall of Fame Award: Frechette Eye Center
The Business Hall of Fame Award recognizes a business or organization in business for 25-plus years. And is presented to a business based on its success in growth and stability, commitment to quality, and overall contribution to the community.
Frechette Eye Center was founded by Dr. Linda Frechette who came to Franklin in 1980 to practice Optometry after receiving her Doctorate degree from Indiana University, Bloomington. Frechette Eye Center is a full-service primary eye care clinic offering comprehensive eye examinations for all ages from pediatrics to geriatrics, emergency medical eye care, low vision rehabilitation for the legally blind and partially-sighted, specialty contact lens fitting and an extensive optical boutique that includes the ability to make your glasses on-site. The clinic also provides pre- and post-operative care and consultations for Lasik surgery, cataract surgery and treatment and management of macular degeneration, dry eye disease and glaucoma, just to name a few. Dr. Linda's daughter, Dr. Samantha Weaver, joined her in practice in 2015 and Dr. Katie Lee joined them in 2020. The clinic has always been run as a family business, where all co-workers are considered part of the "work family."
"We are honored to recognize these local organizations who truly exemplify excellence and the cooperative spirit we value in our business community", Rosie Chambers, Executive Director.
In addition to the four award recipients, the Franklin Chamber presented the Past President Award to Kristen Loy for her leadership of the Chamber in 2022. Kristen has served on the Franklin Chamber Board of Directors since 2017 and as a Franklin Chamber Ambassador since 2015.
Rosie Chambers, Executive Director, also announced two initiatives for 2023 for the Franklin Chamber: the creation the Franklin Chamber Foundation, Inc. which is a registered 501c3 nonprofit created to increase the Chamber's efforts in business education and support of local businesses with a goal of creating a business grant program. The Chamber also renovated its second floor to create a business space that will enable them to provide programming and education for businesses and also offer a place for businesses to meet and gather. The space is also the new home of Discover Downtown Franklin.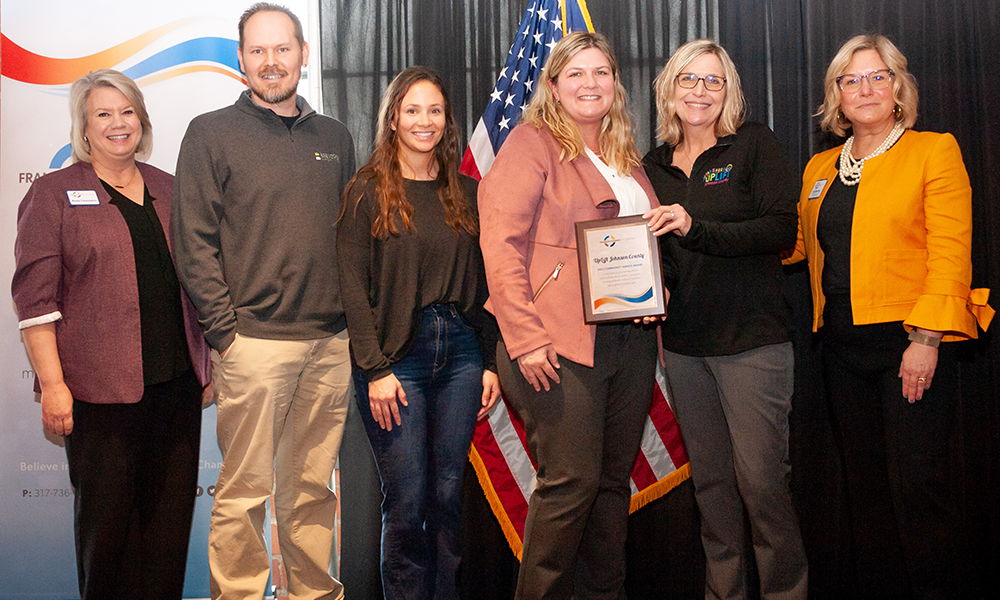 UpLift Johnson County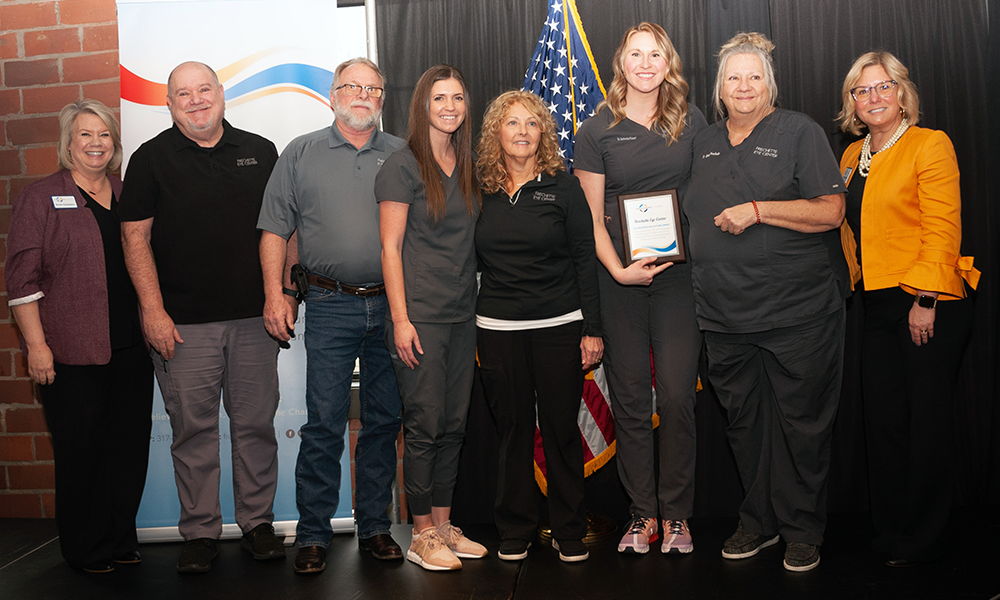 Frechette Eye Center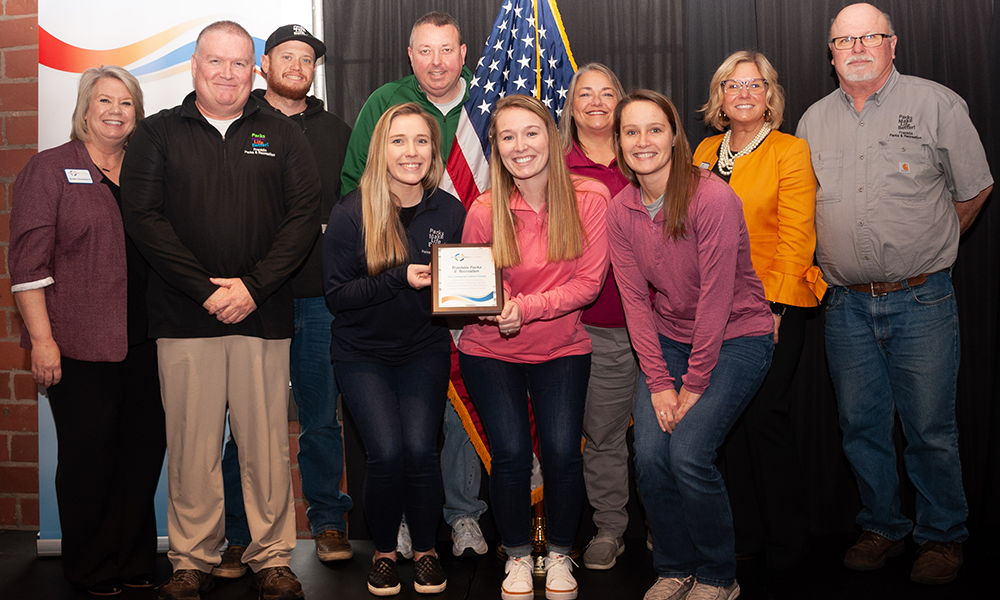 Franklin Parks and Recreation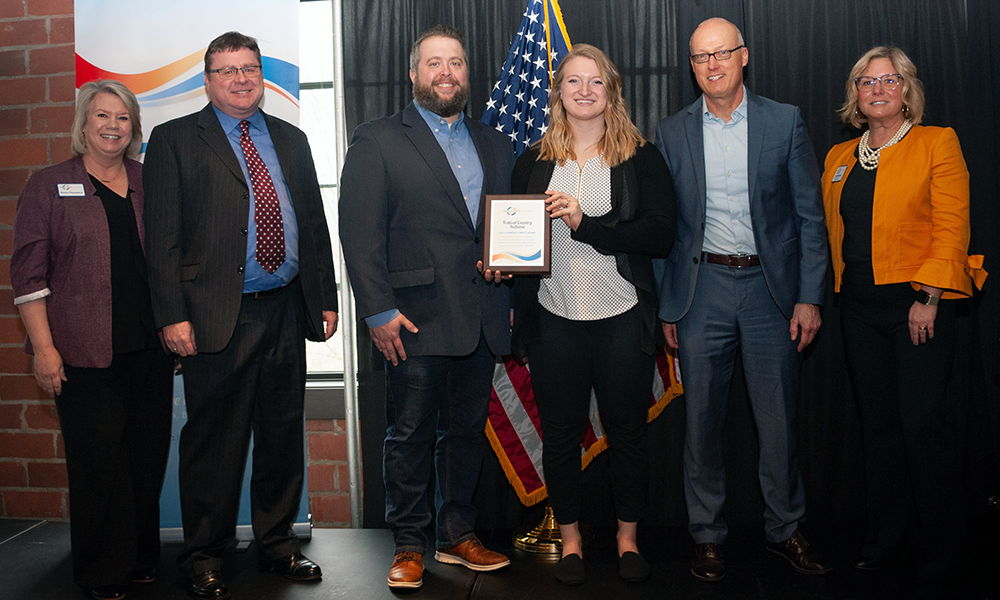 Festival Country Indiana